Trekking in Morocco: Happy Valley in High Atlas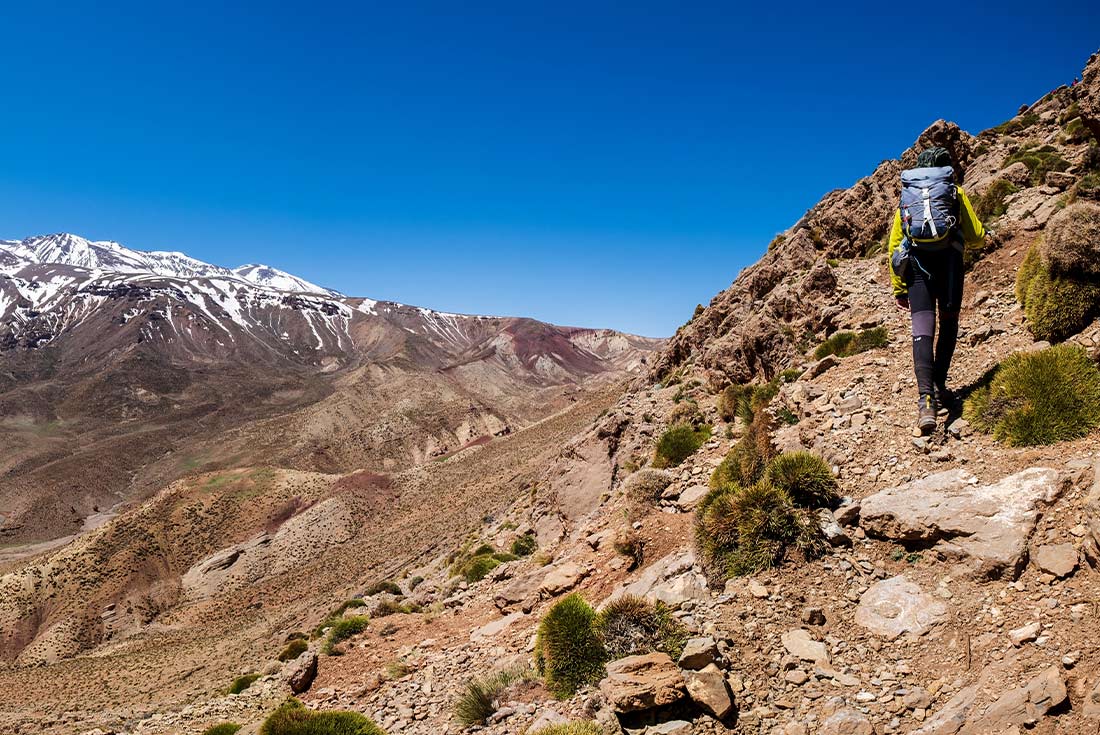 Trekking in Morocco: Happy Valley in High Atlas
Discover Morocco's best kept secret with this 8-day walking and hiking trip through the Happy Valley – or Ait Bougmez in the Central High Atlas Mountains. Running along the M'goun Massif, this is home to Morocco's third-highest mountain peak – Jebel M'goun. Traversing through rural villages, ancient ruins, lush vegetation, cascading waterfalls and fields of grain, you'll learn about the rich culture of the Amazigh people, the history of dinosaurs who once lived here and why sometimes, exploring on foot is the only way to witness the authenticity of a place bursting with stories. Enjoy homecooked meals and stay in traditional mountain gites, while you make your way through the villages and towns of Ait Imi, Ifrane, Arous, Agouti and lakeside Bin El Ouidane – ending it all in bustling Marrakech.
Activities
Aarous - Ait Abbas valley to Aarous village guided hike
Ait Imi - Idoukalen village tea stop
Ait Imi - Happy Valley: Aarous to Ait Imi guided hike
Ait Imi - Sidi Chita granary visit
Ifrane - Dinosaur remains site visit
Ifrane - Happy Valley: Ait Imi to Ifrane guided hike
Agouti - Happy Valley: Ifrane to Agouti guided hike
Bin el Ouidane - Reservoir Walk
Bin el Ouidane - Reservoir boat tour
Bin el Ouidane - White Water Gite lunch
Marrakech - Ouzoud waterfalls visit
Highlights
Enjoy a hiking holiday in arguably the most beautiful valley in the Central High Atlas Mountains – Ait Bougmez or Happy Valley. This is Morocco's best-kept secret.
Rub shoulders with the local Amazigh people who call this mountain valley their home, by staying in authentic gites (mountain homes) and sharing home-cooked meals with countless cups of Moroccan tea.
Explore the community granary of Sidi Chita – a ruin of the holy house of Marabout (a Muslim holy man or hermit) located on the hill with sweeping views of the valley below.
Trek through small rural villages, cereal crops and under the shade of hundred-year-old walnut trees, where the welcoming locals will greet you into their world, sharing stories and culture.
Explore the famous Bin El Ouidane Lake, which forms one of the most picturesque landscapes in the area – by boat and hike. Then, enjoy a tasty lunch in the nearby White Water Gite.
By travelling on this trip, you'll directly support our Intrepid Foundation partner, Education for All. Donations help them support girls in the High Atlas Mountains through secondary school, bringing a generation of women out of the cycle of illiteracy, poverty and early marriage.
For over 30 years we've been taking travelers around the globe. That's over 30 years of adventures, of visiting new places and old friends, of countless unforgettable moments. More than 30 years of changing the way people see the world, on small group tours with like-minded Intrepid people.
As a responsible business, we've always been committed to being there for our travelers and the communities we visit. So, you can trust that when you travel with us, we won't just be there for you
...