Best of Antarctica: Whale Discovery (Ocean Endeavour)
on Ocean Endeavour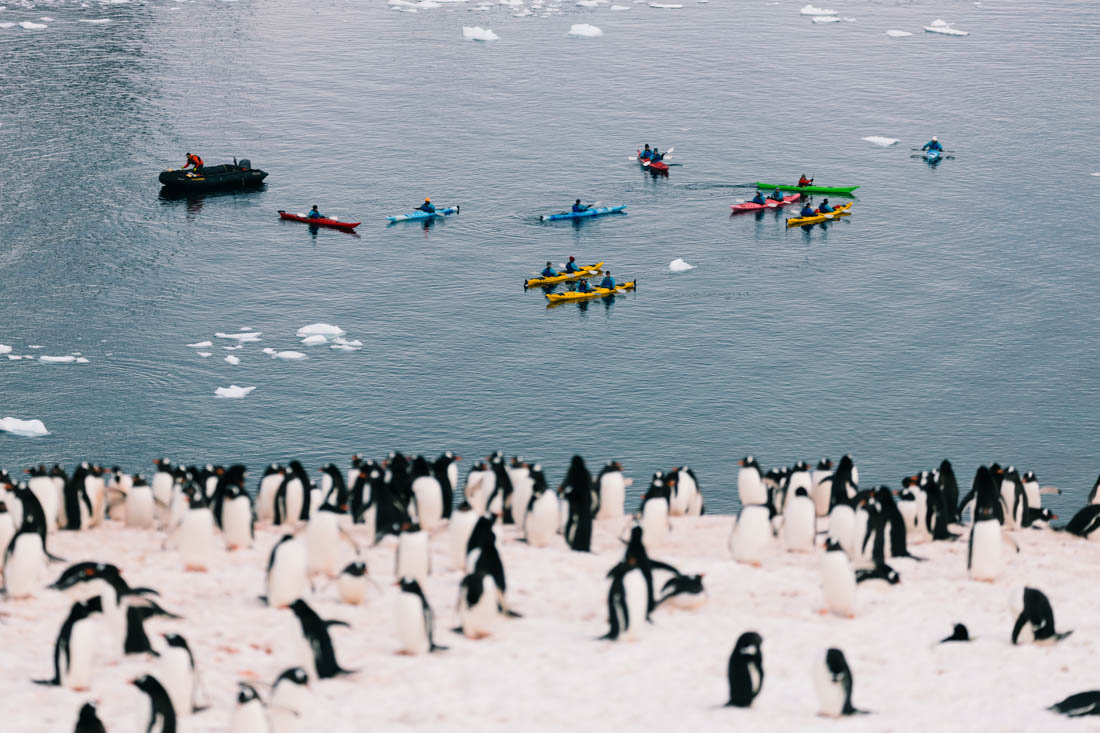 Best of Antarctica: Whale Discovery (Ocean Endeavour)
All aboard – the journey of a lifetime awaits. Set sail towards the Antarctic Peninsula, where whales gather in their largest numbers, on this extended 12-day journey designed especially for wildlife-lovers and epic adventurers. Follow the migration paths of these gigantic sea creatures and spot seals, penguins and seabirds along the way. Explore the frozen wilderness from the deck of the Ocean Endeavour and from our fleet of up-close-and-personal Zodiacs, scanning for underwater silhouettes. Take an optional expedition by day paddle or choose a photography lesson on the White Continent from an expert. Among electric blue glaciers, this by-sea adventure provides the best opportunity for whale-spotting and once-in-a-lifetime exploration.
Activities
Welcome Briefing
Daily Briefings and Recap
Onboard Lecture Program
Citizen Science Program
Zodiac Excursion/Cruising
Guided walking Excursions
Citizen Science Program
Daily Briefings and Recap
Onboard Lecture Program
Daily Briefings and Recap
Onboard Lecture Program
Citizen Science Program
Highlights
Witness an incredible abundance of humpback whales, as these marine mammals migrate south to feed on krill. Take daily Zodiac excursions to get closer to the whales, when spotted by your Expedition Team.
Admire the breathtaking scenery and wildlife that surrounds you, such as Gentoo and chinstrap penguins, fur seals, albatross and so much more, backed by imposing icebergs and glaciated mountains.
Personalise your expedition with a wide range of optional adventure activities. Kayak among icebergs, day paddle with expert guides or take photography lessons from a pro.
Keep learning with onboard educational lectures on history, geology and ecology, and participate in our Citizen Science Program, all led by our expert Expedition Team.
Defrost from the day and reflect on your epic adventure aboard the Ocean Endeavour, with amenities like the Aurora lounge, sun deck, Polaris Restaurant, bar, library, saltwater pool, jacuzzi, gym, day spa and sauna.
Adventure and Active
Safari, Animals, and Wildlife
For over 30 years we've been taking travelers around the globe. That's over 30 years of adventures, of visiting new places and old friends, of countless unforgettable moments. More than 30 years of changing the way people see the world, on small group tours with like-minded Intrepid people.
As a responsible business, we've always been committed to being there for our travelers and the communities we visit. So, you can trust that when you travel with us, we won't just be there for you
...